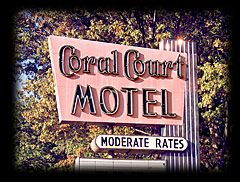 T H E N E O N S I G N


One of the most memorable parts of the Coral Court legacy was the eye-catching sign on the edge of Watson Road. It advertised quality and style with its neon and chrome. During my research, another interesting research fact was discovered: the famous pink Coral Court sign was not the original. When Coral Court opened in 1942, there was an Art Deco gold & red sign that displayed, "Coral Court, Ultra Modern". A small pennant was attached at the top. This initial design can be confirmed by the view on this vintage postcard. Later, circa 1948, the sign was changed slightly. The word "Modern" is replaced by a new word "Motel." This sign was used until the early 1950s.


That impressive, pink Coral Court sign, that we all remember, was not created until around 1952. It was reminiscent of the original Holiday Inn "Great sign". Coral Court's new sign proclaimed "Moderate Rates", while the lower banner with moveable letters declared, "Room Phones, Free Television, Air Conditioning, Swimming Pool". (Cool 1957 advertisement) This distinctive neon sign lured customers to check-in until 1993. In November, three months after the motel closed, the owners ordered the sign taken down and destroyed.